From September to December 2020, in collaboration with Northwestern Global Learning Office and Kaya Responsible Travel, we hosted a group of 12 Northwestern students in a Service learning program called GESI. In Vietnam, the program has been run for over 3 years, however, this year 2020 was the first time we brought it to the new online format. As we concluded the program, let's hear from our participants on how community development internships and cross-cultural exchanges look when things go online!
What is GESI?
Global Engagement Studies Institute (GESI) is a service learning program by Northwestern University, US. This program offers its students opportunities to advance community-driven change in Argentina, Costa Rica, Ghana, Guatemala, Uganda, or Vietnam. In Vietnam, GESI is hosted by Kaya and ABROADER, during which we bring Northwestern students to local organizations for grass-root social development work.
Online Service Learning - How Community Contributions & Cultural Exchanges can be achieved online?
Starting from September 2020, 12 students from Northwestern University took part in group, remote internships with 4 Vietnamese non-profit organizations. Besides studying and working on different projects on the theme of community development, the unique part of this program is its local immersion components. Each group of interns consists of 3 to 4 Northwestern students and 1 local intern, all working together on project-based assignments. The host organizations are local NGOs or social enterprises working on various community missions, including: Environment, community-based tourism, disadvantaged groups empowerment (women, LGBT+, people with disabilities).
Here are a quick summary of what students worked on at each organization:
Vun Art
Vun Art is a Hanoi-based social enterprise that employs individuals with disabilities to create art from recycled silk scraps. These paintings invoke traditional Vietnamese folk painting themes, with values that embody the soul, people, and culture of Vietnam. 
The students at Vun Art worked on two projects:
Plan and build an online shop through which Vun Art can sell products (mainly tote bags and T-shirts)  for the US market.

Develop an ecotourism tour for international visitors to experience making handmade products from silk at Vun Art, including

setting up marketing channels and producing marketing materials.


Greenhub
Centre for Supporting Green Development (GreenHub) is a Vietnamese NGO whose mission is to connect communities and resources to embrace green lifestyle practices, sustainable production and natural conservation. They work in four areas: Waste Management, Sustainable Agriculture, Energy Efficiency, and Natural Conservation. Having organized multiple projects in collaboration with various partners, namely Oxfam, GreenID, and Coca-Cola Foundation, GreenHub has made a powerful impact on society and nature.

Here are the projects that thestudents work on at Greenhub:
Project 1: Being part of the Plastic solution project and conducting research on potential correlation between plastic pollution and public health, particularly with gender inequality

Project 2: Supporting ethnic minorities to build community-based tourism cooperatives to create jobs and improve income for Dao ethnic minority women, as well as developing Ta Phin commune to become a typical community-based tourism destination. 

Project 3: Support the plastic action and women empowerment initiative by putting together bi-lingual brochure and online marketing materials for their recycled products
ICS
ICS was founded in 2008 as a group of volunteers who were administrators and moderators from the 5 largest LGBT online forums in Vietnam. Fast forward to 2020, ICS is one of the most active and major NGO working on this under addressed topic in Vietnam with over 20+ projects and thousands of volunteers. Their mission is to change the negative portrayals of Vietnamese LGBT people in the media through advocacy, education and support for the local LGBT+ community.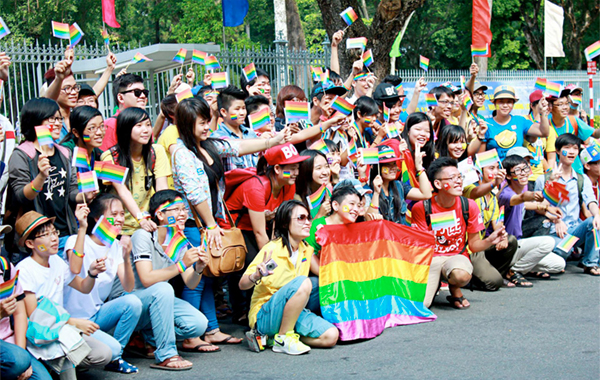 Though LGBT+ Community in Vietnam has achieved significant accomplishments in the last couple of years in terms of social advocacy,  there is still a lack of opportunity and awareness in terms of involving the expat community in Vietnam in LGBT+ advocacy. During GESI, the student group is set to lead their own project to create communication activities toward the expat community in Vietnam, to raise their awareness and encourage their participation in the local LGBTI+ advocacy activities.
Greenid
GreenID is a Vietnamese non-profit organization (NPO) who works to promote sustainable development in Vietnam and the larger Mekong region, and is now on its way to become a leading and credible civil society actor promoting sustainable energy sector development. GreenID works to achieve fundamental change in the approach to sustainable development by promoting the transition to a sustainable energy system, good environmental governance and inclusive decision processes. Over the years, GreenID has raised over $660,000, published 10 research papers, completed 12 projects and 35 advocacy materials, and made 10 policy dialogues. 
There were four projects that the GreenID students worked on:
Project 1: Conduct case study research on successful initiatives and policies that promote solar panel installment at home in countries/ states/ cities

Project 2: Conduct case study research on successful partnership models between farmers and wind & solar power investors in U.S states. Analyze their benefit sharing models, analyze factors that lead to their successes

Project 3: Brainstorm ideas to install Green Kiosk/ Green booth to promote renewable energy and energy transition at travel destinations and entertainment spots in Vietnam

Project 4: Support Green School projects, planning and facilitating online class to teach secondary school children about environment. You can read more about Green School Project here.
Picture: A example of a Green School online class with Vietnamese primary and secondary students
What do the students and host organizations say about the experience?
Caroline - Student Intern at Greenid
"I've always been interested in sustainable development so interning with GreenID is a really great fit for me to do something this quarter that was just traditional study classes. So I really appreciated the opportunity to do this tape of work and really engaged with Vietnam, people across the world, GreenID and developed my research skills, especially. Despite the fact that it was online, I think I really gained a lot from it. And my future plans are much different than they were at the beginning of this internship. I think this internship will help me find a job when I graduate in renewable energy. Now I feel a lot more knowledgeable in renewable energy which is great and something I want to get exposure."
Sai - Student Intern at Greenhub
"The fact that virtually I can work with an organization across the globe and contribute my perspective and just exchange ideas make it a very special experience. I don't think I can just simply set up a Zoom meeting with people from different countries.
I appreciate that we are given a lot of ownership and flexibility. Of course there are problems with that, like how to communicate to know exactly what they (the host) want from us, but I also appreciate that we are not being told what to do and being given feedback. I think it is a very way to improve, and the challenges are part of the learning process. I think even if we do this internship in the U.S, given the situation, we will still have these communications problems. 
The favorite thing about the internship is doing the catalogue (for the plastic-recycled products). The process of working with Rawan and Angie on the design, and talking to Hung (the supervisor), learning about the stories of the Women's Union and how they make these products make it really interesting."
Alex - Student Intern at ICS
"One thing I personally learned from this internship is knowing that my cultural background kinda shades the way I approach the internship, which I was very surprised about in the beginning. Talking with ABROADER (the site team) too on some of the work expectation in Vietnam, was enriching for all of us to learn about the ICS's approach model which is a bit freer. At least for me, I normally work with a more structured approach. So I think it was cool to see the Vietnamese approach, its strengths and weaknesses and think creatively about what we can come up with.  
Something I really like is that through the organization and a short internship, it is really nice to get an introduction to the LGBT+ community that we are assisting and some of the cool things that are happening, for example the Pride Bus and Pride Run. It is cool to see those fresh, new things happening in Vietnam. It is growing and it is becoming more diverse and present in the public eyes. It is exciting to see a different country's take on some of these things and to be more open minded, I think it is really cool."
Thuy Tien Nguyen - Taphin community-based tourism project manager, Greenhub
"I am impressed with the videos you (student) made for Instagram accounts. We will start promoting our products on social media building from your work. Your promotion videos and word-of-mouth marketing guidelines will be useful for us to work with the local people in Taphin's commune to market their ecotourism. Thank you again Milena, Angie for your hard work!"
Linh Nguyen - ICS's director
"Your products are helpful for us to connect with the expat community in HCMC. Honestly this is something we wanted to do for a long time but did not have the resources to.
I think next year I think you will soon see your newsletter and expat guide, your products, be shared in our network and continued by future interns. I would like to add your emails to the network so that you will see your products will be used and evolve over time."
Phuong Anh Doan (Angie) - Local intern at Greenhub
"I think that I learned a lot about the facts and the situation of the environment here in Vietnam. Before in Vietnam, there was a lot of information already and they also talked a lot on the television. Now I have a chance to work with one of NGOs which is Greenhub. I learned a lot more and more details about what is actually going and how is going right now in Vietnam. So that is also one of very useful information that I can actually change my way of living a little bit to make things better."
Final thoughts
There have certainly been difficulties and challenges during the program, such as culture and time differences as well as the challenge of doing community work online. However, the challenges provide opportunities for creativity and lessons learned. While each student has a different takeaway, it is clear that the online service learning program has been a great learning experience how to adapt quickly and work collaboratively across language and time zones.
Above all, it is proof that real contributions to local community development and connections can be made in different formats. These are different, but still very much impactful.
---
Beside internship, during the service learning program, GESI students also have weekly cultural exchanges during which they learn about Vietnamese culture through music, food, youth culture etc. with locals. If you are interested in learning more about the cultural exchange elements, read our quick recap here.
Curious to learn more? Reach out to our team at partner@abroader.org
Other things may be interested in:
Learn more about our remote internship program and available scholarships!
Browse to see various remote job opportunities here!
Click to read our students' reviews about their experience doing remote internships with ABROADER!